My Carbon Action
My Carbon Action is for sustainably responsible fintechs, banks, financial service providers and merchants who are committed to fight climate change – one payment at a time – and live a more sustainable lifestyle.
A transaction-based lifestyle carbon footprint calculator
Our calculation is based on country-specific scientific data and individual lifestyle choices – a combination that no other carbon footprint calculator takes into account.
Why we developed My Carbon Action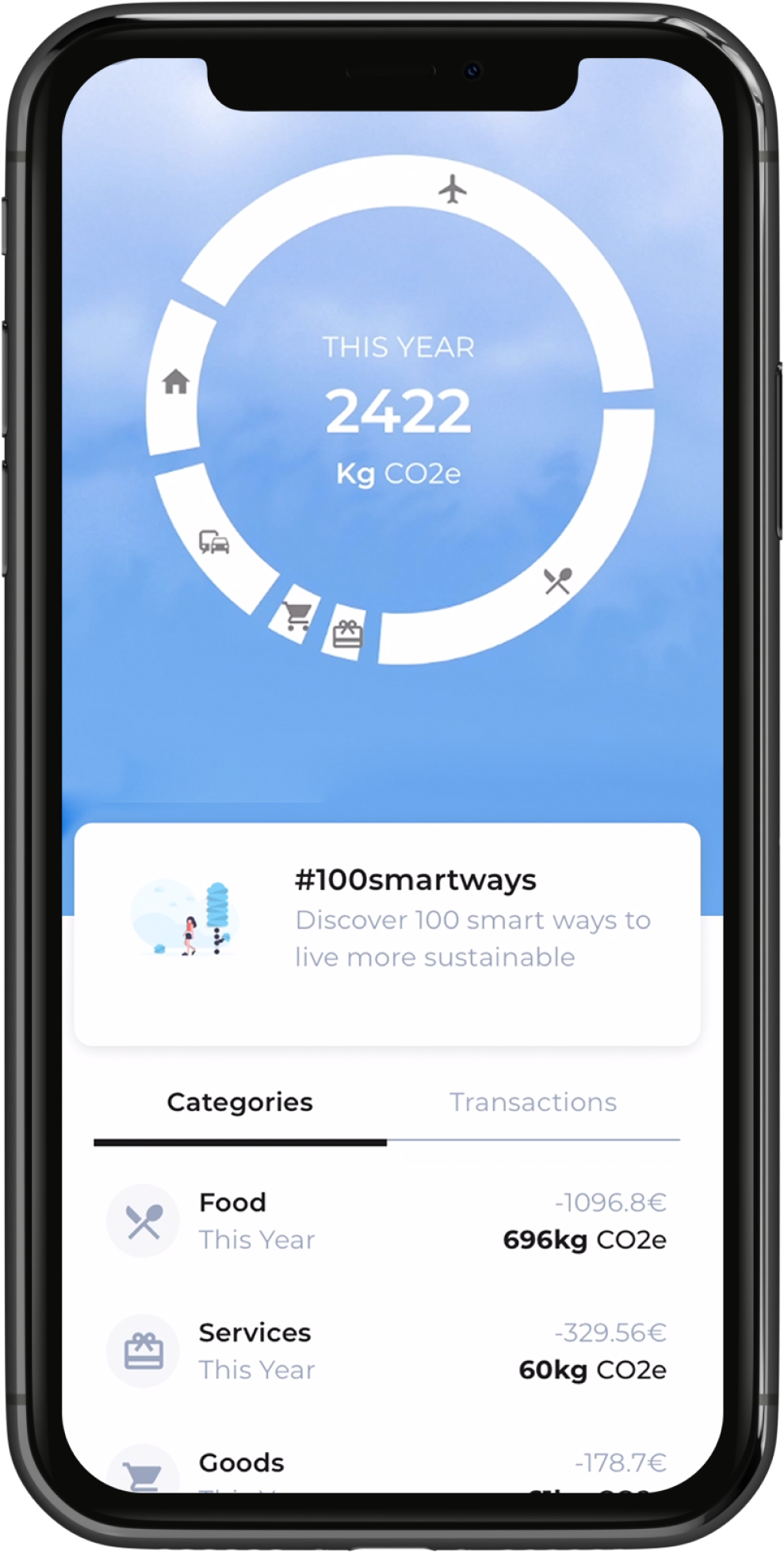 Changes in consumption patterns and the shift towards a 1.5 degree lifestyle should be an integral part of addressing climate change. That's why Enfuce developed My Carbon Action, which we offer to banks, merchants and various financial service providers who want to help their customers change their lifestyles through sustainable and responsible consumption.

Our transaction-based model automatically calculates the CO2 emissions of every purchase, providing consumers with individual insights on the environmental effects of their consumption. My Carbon Action is based on a country-specific scientific data model and user input on individual lifestyle choices – a combination that makes us different from any other carbon footprint calculator on the market

My Carbon Action is offered as a turnkey service that banks, other financial service providers and merchants can integrate to their existing user experience.
My CARBON ACTION
Connect to our Service
Banks, Neobanks, Financial Service providers
The carbon footprint of each purchase is estimated from digital transaction data based on consumer spend and the product or service's carbon intensity data.
Merchants
The carbon footprint is calculated in real-time on product or product category level and presented as part of your online shopping experience.
Want to know more?
If you'd like to have more information about My Carbon Action, please contact us.
The only way to reduce an individual's carbon footprint is by making it personal.
It's estimated that 70% of emissions are driven by consumer behavior – so we have both a huge potential and a real responsibility to address climate change through individual consumption choices.
Eating
Eating habits are more than a choice between meat and plant-based proteins. The carbon footprint of your diet is also impacted by shipping, packaging, use of scarce resources, and other factors.
Shopping
How is the carbon footprint of shopping formed? The origin and the materials of the product are not the only considerations but also the shipping method, and if the items are returned or not.
Moving
Having the numbers to compare the carbon footprint of different modes of transportation could help in making more sustainable choices, whether you're using public transportation or a car.
We're here to help you
The science behind My Carbon Action
My Carbon Action is based on a validated calculation method called Life Cycle Assessment (LCA), which has been developed together with D-mat, a Finnish consultancy experienced in lifestyle carbon and material footprint calculations. The calculation takes into account the environmental impacts of a product's entire lifecycle from raw-material extraction, manufacturing and transport to use and disposal.
Towards a 1.5-Degree Lifestyle
The report 1.5-Degree Lifestyles: Targets and Options for Reducing Lifestyle Carbon Footprints by the Institute for Global Environmental Strategies, Aalto University, and D-mat Ltd. demonstrates that changes in consumption patterns and lifestyles are critical and should be an integral part of addressing climate change.
Dr. Michael Lettenmeier
---
CEO
---
D-mat Ltd.
"We are happy to collaborate with Enfuce for this new service.
My Carbon Action goes beyond traditional carbon footprint calculators because it provides consumers with direct feedback on the carbon footprint of their purchases. This feedback can help adjust the consumers' carbon footprint on the basis of their actual consumption."